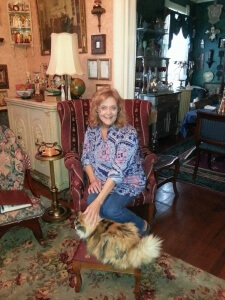 Dianna Ducote, a speech therapist by day (Abbeville Hearing and Speech Associates, Inc.) and an innkeeper at all times, was a former flea market and craft shop owner. Dianna's eclectic style is combined with traces of the Victorian era, both of which are evident in the home. Dianna's collector-gone-mad personality is evident all throughout the house, inside and out.
Dianna is a wonderful cook and guests enjoy her unique home-cooked breakfast recipes which utilize ingredients from her own garden.
Dianna loves to cater to her guests and no one leaves a stranger, but a life-long friend.