If you have been a guest and enjoyed your experience at The Ducote-Williams House, we would love for you to submit a review below for our Trip Advisor listing.  Thank you for your time.  Dianna
---
Reviews:
My mother,cousin and myself stayed with you 3 years ago, March. We had such a wonderful time, you treated us like family, wined and dined us, AND showed us Thrift stores the next morning. We have thought of you many times, and given the opportunity will gladly visit you again, Much love, Sherry, Kaye and Mama Jo💙💜💚
---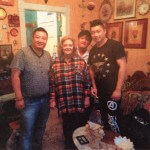 We sincerely appreciate for having us Ms. Dianna. For every meal you made for us, for showing us your house and pictures, for sharing your family memories, for having us, for making my friends trip into a stunning fantastic beautiful artistic experience which they couldn't even imagine that from the country where we were from. Please pardon us if there was any inconveniences or disturbances from me and my family or my friends. You are such nice kind generous classy and beautiful lady, the time we spent time together was so impressive! I wish you have a nice day today, hope to see you again…Thank you again.
---
Review posted on Yelp:
There is no comparing this bed and breakfast experience with any other I've ever had. It was the epitome of southern hospitality, a bit like returning home- even if you've never been so far south of Louisiana in your life, which was the case for me and my husband.
My first impression, upon arrival late last Saturday night was slightly overwhelmed. Every inch of wall and table space in our room was covered with knick-knacks, tons of framed photographs, and crosses. I had never seen anything like it and it kind of threw me off.  My husband (who had been raised in a B&B himself) pointed out that every last thing was all unbelievably spotless. It must take an incredible amount of energy to keep that many decorations clean! So upon further inspection I was both intrigued & amazed. Each bedroom has its own bathroom, complete with claw-footed tub, a large sink, and more holy water bowls on the walls than I could count!
After getting situated, we moved out on to the massive front porch where we sipped wine set out for us in a sweet little basket complete with plates & wine glasses. My husband and I, along with another couple we're close to (who booked the rooms for us), giggled into the night on comfy wicker furniture as we gazed out at the stars. It was truly quiet way out here, something that most people don't realize how much they really appreciate until they have it!
After a good night's sleep we awoke to some delicious smells emanating from the kitchen. We made our way through the old halls, also decorated completely with framed pictures, lace, and other antique kitschiness. We stopped to pet the friendly fluffy cats who greeted us under the large island in the middle of the kitchen, where we poured our coffee and perched on stools to await breakfast.
This is where the magic happens! The proprietor, Diana Ducote herself, had been quite busy; she made sure we had all the utensils and drinks we needed as she stirred pans of homemade sausage, fluffy scrambled eggs with crawfish, and cheesy potatoes. There was also her homemade blackberry jam to go with biscuits as well. Diana kept her hands busy cooking and serving as she cracked us up with her crazy stories told in her scratchy Southern accent. I hadn't laughed that hard in a while, in spite of the fact that it was 9 am!
We all moved back out to the porch for a while after breakfast. The flowers in the garden were blooming, cats were rubbing against our feet, and someone was cutting grass out back. I truly have never felt more comfortable in a hotel, or B&B in my life. We felt like welcomed guests in her home and after breakfast, old friends as well. Before my stay here, I had only heard of a place called Abbeville, but now, anytime I need a short escape to the country, I will consider here first. The Ducote-Williams house is a prime example of comfortable, traditional Southern hospitality that everyone should experience at least once when visiting the area.
---
The Ducote-Williams Home, a now historic property, with its eclectic décor, reminds us of days long ago, combined with the artistic spirit of today's vibrant culture, music, art, theatre and cuisine all blended to make your visit a unique experience. It is evocative of an era when high ceilings, wood floors, decorative molding, spacious porches and gracious living were the norm, not the exception.
Let your eyes roam the various collections lovingly collected over the years, while you sit back, relax and enjoy a cocktail and an appetizer. The home is a living museum rather than one behind the velvet ropes. It is entrenched in the history of this charming, unique community.
Walk to the beautiful downtown square, view a play at the historic Abbey Players Theatre and then wander down the street for a wonderful fare at one of the renowned local eating establishments.
Wake in the morning to a full hearty breakfast with fresh fruit, grillades and cheese grits, egg cheese fluff and sausage pate to start your day.