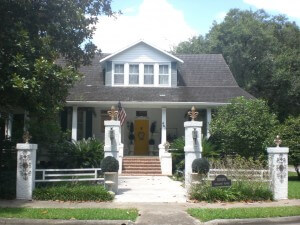 Affordable luxury is the mission of The Ducote-Williams House Bed and Breakfast. We cater to each guest's needs. The host, Dianna Ducote, offers warm hospitality, friendship, and an extensive knowledge of the area.
The Ducote-Williams House Bed and Breakfast has 2 guest rooms: The Angel Room located downstairs and the Two-Bedroom Suite located upstairs. Each has a private bath.
A hot Gourmet Specialty Breakfast is included in your stay.
There is free WiFi available throughout the home and porch and various amenities are included.
Packages may be added to any overnight stay.
PLEASE NOTE: $25 charge for lost key
Our back yard is private and lush with greenery.
The Ducote-Williams House is pet-friendly. We welcome small pets in carriers with prior approval. Please call the innkeeper at (337) 898-0048 prior to bringing any pets.
We are also child-friendly. Ask us about sleeping arrangements for young children. Children will enjoy the doll house which was built to mimic The Ducote-Williams House, complete with furniture and its own mailbox.